Frejus – The Definative Tourism & Holiday Guide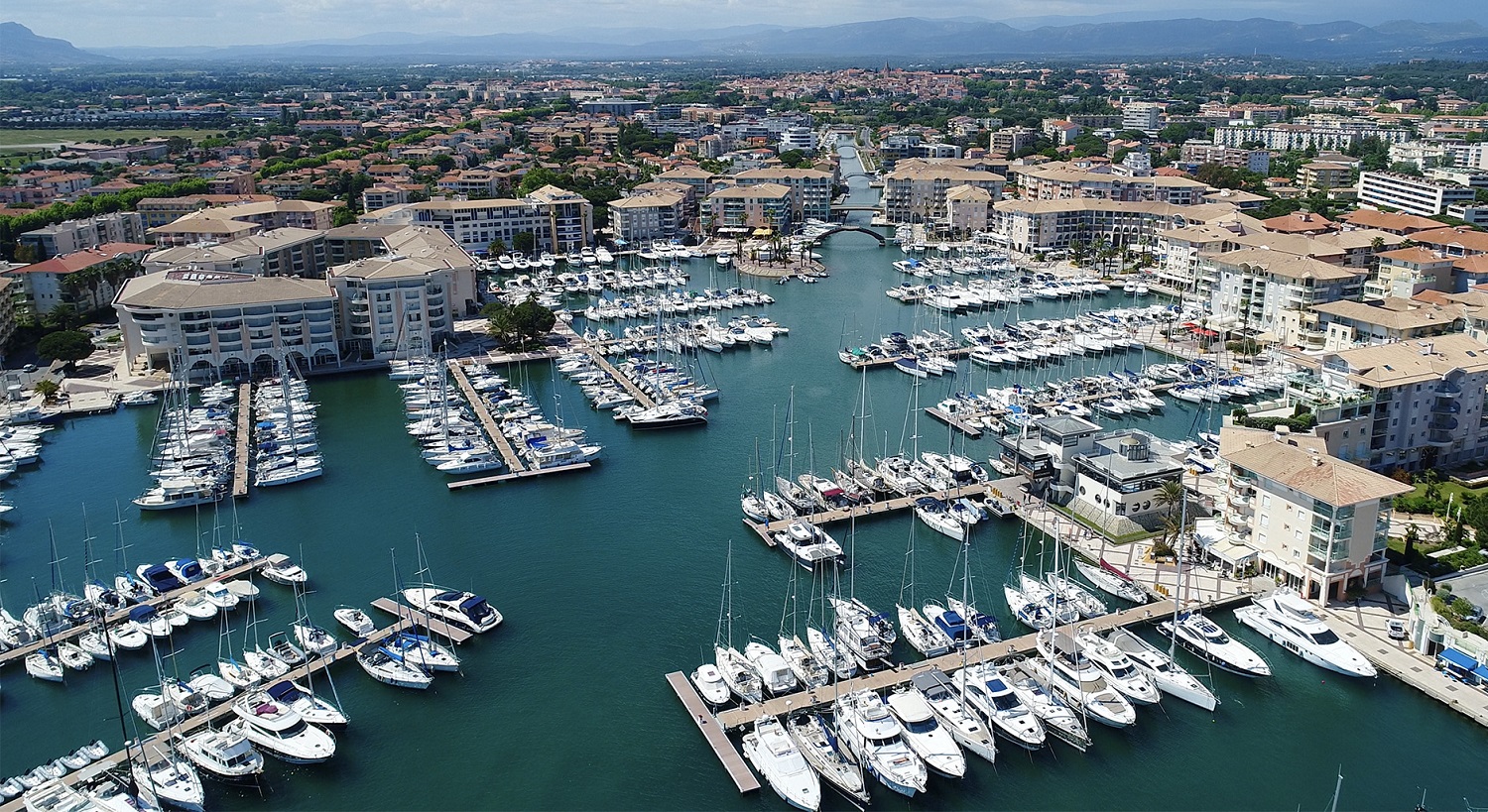 Frejus – The Definative Tourism & Holiday Guide.
Frejus, France – You might come to Provence city of Fréjus for the beaches, which are plentiful and sandy, or the port, which is an upmarket base for summer fun. The city's military legacy is compelling, and there are museums and monuments that commemorate a heritage going back to the 17th century.
It is believed that it was the Celto-Ligurian people who originally settled around the natural habitat. You can still find the remains of a wall constructed to defend the locality on Cape Capelin and Mont Auriasque. The town is located on the western side of the Esterel Mountains and on the coast of the Mediterranean sea and is part of the French Riviera.
There's ancient history to uncover too, as Fréjus started life as the Roman port city of Forum Julii, with ruins of an aqueduct and amphitheatre still here. One of the oldest Christian buildings in France is also in Fréjus within the outstanding Cité Épiscopale, which also contains the medieval cathedral and cloister.
Below we've listed the best things to see and do if you find yourself holidaying in Frejus.
Fréjus Cathedral
Location: 58 Rue de Fleury, 83600 Fréjus, France
The cathedral is embedded in a complex of medieval buildings, some going back to the earliest days of Christianity in France.
Known as the Cité Épiscopale, this ensemble was fortified and was set around the Gothic Bishop's Palace.
Cloitre de la Cathedrale de Frejus
Location: 58 Rue de Fleury, 83600 Fréjus, France
To the north of the cathedral is the cloister, a place of reflection for the cathedral's clergy. The arches and columns here are from the 1200s, with capitals depicting the Fleur de Lys, a symbol for the ruling Charles I of Anjou , and keys representing the Bishops of Fréjus.
Baptistery
Location: Rue de Fleury, 83600 Fréjus
The Cathedral's Frankish baptistery is fascinating enough to merit a separate entry. This part of the cathedral dates all the way back to the 400s, making it the oldest Christian site in Provence and one of the oldest in all of France.
Malpasset Dam
Location: 83600 Fréjus, France
A couple of minutes outside Fréjus is what is left of the Malpasset Dam, which was built in 1952 but broke in 1959 at the cost of 423 lives. The site of the dam has been untouched since the disaster and stands as a kind of memorial.
Pagode Hong Hien
Location: 13 Avenue Henri Giraud, 83600 Fréjus, France
During the First World War, Senegalese and Vietnamese soldiers were stationed in Fréjus before being deployed on the Western Front. This Buddhist pagoda is an interesting vestige from this period, constructed by Indochinese soldiers in 1917. The building fell to ruin after that war, but was restored by refugees from the war in Indochina in the 1950s.
Aqueduc romain
Location: 405-561 Avenue du 15eme Corps d'Armée, 83600 Fréjus, France
Antiquarians can go on a little journey of discovery on the route of the 40-kilometre aqueduct that channelled water from the Foux and Siagnole Rivers to ancient Forum Julii via a line of underground conduits and tall bridges. Right in the city there are four tall piers to ponder in the Parc de la Villa Aurélienne.
Chapelle Notre-Dame-de-Jérusalem
Location: Route de Cannes – Tour de Mare, 83600 Frejus, France
Also just off the DN7 in the hills behind Fréjus is a thrilling slab of 20th century French culture. The artist, poet and film-maker Jean Cocteau was hired to design this chapel in the middle of pine and cork forest.
Chapelle Saint-Francois de Paule
Location: Place Agricola, 83600 Fréjus, France
The Saint-François de Paule chapel is a Catholic chapel located in Fréjus (Var), built in 1560 and dedicated to Saint François de Paule . It is protected as a historic monument.
Arenes de Frejus (Amphitheatre)
Location: 296 Rue Henri Vadon, 83600 Fréjus, France
Until the last few years the city's amphitheatre had been a picturesque ruin, with big chunks of the seating terraces and arena decaying but still very easy to make out and fun to potter around.
The building has since been restored as a venue for public events, and the ancient sandstone has been covered with white concrete as a way of preserving the original structure and stopping it from deteriorating any further.
Villa Aurelienne
Location: Avenue du General Callies, 83600 Frejus, France
Château Aurélien dit Villa Aurélienne since its recent restoration, is an architectural work in neo-Palladian style located in Fréjus on a hill northeast of the old town between the Reyran stream and the Valescure district in a park of twenty-two hectares characterized by its Mediterranean vegetation and essences.
Inter Racing Karting
Location: 1945 Avenue du 8 Mai – Chemin du Capou, 83600 Frejus, France
Located in Fréjus, close to Base Nature Francois Leotard and the beach, Inter Racing Kart is a racing course for individual rental for adults and children. Two tracks are at your disposal: one of 600m for adults and the other of 130m for children.
Frejus mosquee Missiri
Location: Route de Bagnolet en Foret – Camp militaire du Cais, 83600 Frejus, France
The Missiri Mosque is a former French military community center inspired by sub-Saharan Islamic architecture. It was constructed in 1928–1930 for the Senegalese Tirailleurs based in military camps in Fréjus, southern France. Although its appearance evokes that of a mosque, its purpose and uses remained secular.
Base Nature Francois Leotard
Location: 1196 boulevard de la Mer, 83600 Frejus, France
The perfect place to go to with kids for a picnic, you can bring your own skates/cycles/boards/ball or any kind of sporting gear, pet freindly.
Mont Vinaigre
Location: Route de Malpey, 83600 Frejus, France
The Esterel Massif is a range of dusty, maquis -coated mountains between Fréjus and Cannes to the northeast. The tallest of these is Mont Vinaigre, which is more than 600 metres high and is easy to access on the DN7 road on the way to Cannes.
Parc Areca Jardin Botanique
Location: 418 Avenue Alfred de Musset, 83370 Fréjus, France
The park itself is pleasant for a walk, its best feature is definitely the excellent playground for young children, with several unusual features for playgrounds in this part of the world. There is some shade (not everywhere, but at least some); there is a really wonderful pirate-ship climbing frame, large with two levels and plenty of activities for many ages.
Kuentz le Monde des Cactus
Location: 327 rue du General Brosset – Domaine de la Magdelaine, 83600 Frejus, France
A collection of thousands of species of cacti and succulents. The largest and oldest are planted in the open ground, in a rock garden sheltered in winter. The oldest are over 100 years old, the largest are up to 6 meters high. The rest of the collection is grown in pots and distributed in all greenhouses, depending on the climatic needs of the species.
Luna Park Frejus
Location: RN 98, 83600 Fréjus
Luna Park Frejus is an amusement park with more than 50 attractions and adventures including a ghost train and bungee jumping.
Aqualand Frejus
Location: Camp de l'abbé, 462 Route départementale 559, 83600 Fréjus, France
After perusing churches and architecture, you may be in search of something to suit younger tastes, and this waterpark fits the bill. There are 18 slides and pools in all, some aimed at the littlest visitors and others, like the award-winning King Cobra, that teenagers will be crazy for.
Beaches
Amid the culture and engrossing sights you can't forget that Fréjus is also a summer resort, blessed with eight beaches on both sides of the port. Starting in the west is Plage du Pacha, and then to the east just before Saint-Raphaël is Plage des Sablettes.
Always a hit with families is Base Nature François Léotard a long, shallow sweep of sand made all the more accessible for its car park and facilities for elderly and disabled bathers.
Musée Archéologique
Location: 3 Place Calvini, 83600 Fréjus, France
The city has been digging up exciting artefacts from the ancient city of Forum Julii since the 1800s and many of the best pieces have ended up in this museum.
Musée des Troupes de Marine
Location: 167 Avenue Troupes de Marine, 83600 Fréjus, France
The Troupes de Marine is a waterborne arm of the French Army, and was founded by Cardinal Richelieu in 1622. This museum explores the history of the Troupes de Marine, which is entwined with French colonialism and so is a rich resource if you're interested in that period of history.
Musee d'Histoire Locale et des Traditions
Location: 153 rue Jean Jaures, 83600 Frejus, France
The collections of the museum of local History show various aspects of the private or collective life of the inhabitants of Fréjus in the nineteenth and twentieth centuries.
Memorial des Guerres en Indochine
Location: 862 Avenue du Général d'armée Jean Calliès, 83600 Fréjus, France
This place of memory for soldiers "Dead for France", whose bodies were repatriated, consists of a monument erected in 1983 by an association, a necropolis and a historic room.
Parc Zoologique de Frejus
Location: Le, 240 Rue Hubert Masquefa, 83600 Fréjus, France
The Fréjus Zoological Park is a French zoological park located in the Var , in Fréjus . Created in 1971 by Hubert Masquefa, associated with Michel Klein , it takes place in a typically Mediterranean natural setting.
Casinos de Frejus
Location: 40 rue Jean Aicard, 83600 Frejus, France
If gambling is your thing, then the Casino Vikings de Fréjus has got you covered. You can play over 100 slot machines which are among the very best.
Vignoble du Clos des Roses
Location: 1609 route de Malpasset – Lieu dit Sainte Brigitte, 83600 Frejus, France
Le Clos des Roses is a real haven of greenery located between Cannes and Saint-Tropez, just 40 minutes from Nice Airport.
An exceptional place, it fits perfectly into the new era of wine tourism. Around the central activity of the vineyard which is part of the rich palette of Côtes de Provence, the Clos des Roses also houses a small charming hotel and restaurant and offers the rental of reception and seminar rooms for events.
Chateau Paquette
Location: Rond Point de Curebeasse, 83600 Frejus, France
The Paquette family has been delighting the taste buds of wine lovers for fifty years and four generations with the wine from the Curebéasse estate. A wine recognized by critics and classified as AOC Fréjus-Côtes de Provence.
Fréjus-Plage Night Market
Location: Boulevard d'Alger, 83600 Fréjus, France
From the 1st July through to the 31st August every year a night market with multiple stalls offering local, artisanal, artistic and gourmet products and is located on the seafront.
La Galerie – Geant Frejus
Location: 480 avenue Eugene Joly, 83600 Frejus, France
The Galerie – Géant Fréjus is a shopping mall with 43 different stores.
Office de Tourisme de Frejus
Location: le Florus 2 249 rue Jean Jaures Cs 50123 – Le Florus 2, 83618 Frejus, France